Clerks III is the fourteenth film directed by Kevin Smith. To say that Smith has a dedicated fanbase would be an understatement. The filmmaker has been bringing quirky comedy to the masses for nearly three decades. His unique vision and style, which tend to mix gross out humor with heartfelt sentiment, began in 1994 with Clerks. The cult classic comedy written, directed and produced by Smith, was a passion project, filmed in the very convenience and video store that Smith worked. Now, twenty-eight years later, Smith brings that story to a meaningful and self reflective conclusion.
Clerks III further explores the mundane, day to day lives of Dante and Randal. As clerks and owners of the Quick Stop Grocery they spend their days engrossed in in-depth conversation about Star Wars. When Randal suffers a near fatal heart attack, it forces him into a state of self reflection. He begins to ask, "What have I done with my life?" With a newfound lease on life, Randal sets out to make a movie about his life and the customers he interacts with everyday. Dante, Jay and Silent Bob are along for the ride, as always.
Also Read: Kevin Smith Potentially Developing A Sequel To His Strangest Film "Tusk"
Clerks III radiates Smith's signature style. Despite a budget of around seven million dollars, the film feels small in scale, even more so than Clerks II. Smith brings the third entry back to its shoe string budget, indie roots with a film that feels grounded and tethered to the Quick Stop Grocery's singular setting. The biggest hurdle for Clerks III is finding a track that allows it to stand on its own two feet without being propped up be the existence of the first two films. There's a fine line between paying tribute to something, and overly relying on it. Smith tiptoes along that line with an unbalanced trot for the majority of the film, and occasionally, he slips.
There is no doubt about who this movie was made for: The Fans. Clerks III is saturated with call backs and references to the films that came before it, especially to the 1990's original. So much so, that anybody unfamiliar with those prior films, will likely be lost amidst a whirlwind of weed references and inside jokes and gags. For example, I've seen both previous Clerks films. I watched this movie with my wife, whom as not seen either of the first two films. While I was enjoying myself, my wife loudly objected half way through the movie, "This is stupid and I have no idea what's going on."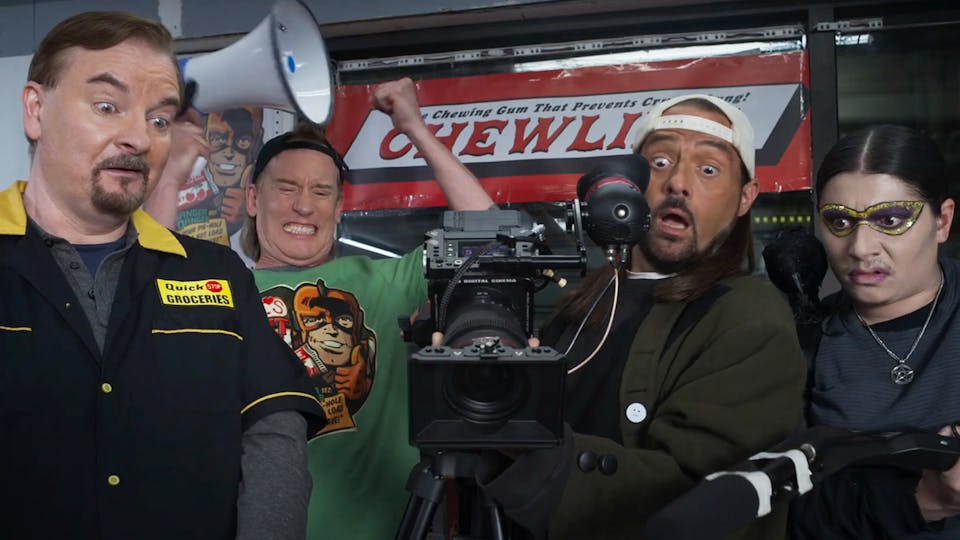 Also Read: 'He deserves an Emmy': Kevin Smith Floored By Antony Starr's Unparalleled  Performance as Homelander in The Boys Herogasm Episode
Kevin Smith knows exactly what he's doing with Clerks III. He's making a movie that not everybody will like, but that some will love. He's returning the world and the character that launched his career and delivering a send off that feels sincere and meaningful. Smith's reflection on his life and career come through loud and clear. 'Snoochie Boochies!' 7/10
Follow us for more entertainment coverage on Facebook, Twitter, Instagram, and YouTube.