Eternals, after creating a lot of hype, released this week and is MCU's 26th movie. Chloé Zhao gave this movie her taste as she did in her movie "Nomadland". However, it did not get a good Rotten Tomatoes score. But, nothing is stopping the MCU fans to watch this epic cosmic saga based on a group of nearly immortal beings who are ready to save the Earth from Deviants, the evil. You can call it MCU's style, or its working culture, but whenever MCU introduces us to a movie or a new set of characters, they come up with a sequel to explore more of them deeply. Usually, in the first movie, they set a base and establish the character(s). In the sequel, they explore more of it. The same was assumed for Eternals. However, Nate Moore has something else to say! Check it out: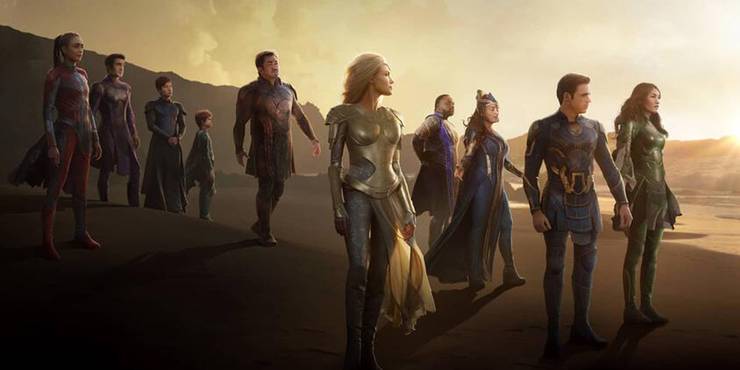 Eternals: Sequel Isn't Must-Have Says The Producer Nate Moore
Eternals, even after getting a bad Rotten Tomatoes rating is managing to attract the audience. The movie has a star-studded cast that includes names like Angelina Jolie, Salma Hayek, Gemma Chan, Kit Harington, Kumail Nanjiani, Don Lee, along with others. Having so many important characters in the film, it is nearly impossible to explore each one of them in a time-bound setup. So, having a sequel sounds obvious. Doesn't it? When speaking to The Toronto Sun, Nate Moore downplayed the possibilities of a sequel.
When asked about having Eternals 2, he said:
"It's not something that is a must-have," he said. "We have ideas of where we could go, but there isn't a hard and fast rule where we have to have three of these things and this is the first."
Marvel not making a sequel, that too of a movie like Eternals? Sounds weird. Having such important and strong characters, having a sequel to explore their characters sounds like a plan. But Nate's comment makes it all dicey. However, Nate himself doesn't sound sure if a sequel is on or off. But whatever it is, we believe it is likely that the movie will. However, this movie is such that fans can go with no thoughts of a follow-up and simply enjoy what Zhao has to offer us!