The movie adaptation of Injustice is indeed a unique film adaption of the comics. With fewer changes, you can differentiate between the movie and the comic. Even after knowing there will bound to be differences while adapting a story from one medium to another, fans can't help but wonder what things did the creators change. There are several things or facts that only comic book fans know. Both the film and comic emphasize the key story that is the after growth of Superman even if he has to lose his wife and son. But, the movie has left many details behind that only a comic book fan will recognize. So, there are some other moments that a comic fan understood but a movie watcher didn't.
The scene, where Superman accuses Bruce of loving the joker, has indeed brought a powerful message for the viewers. He knew that Batman was destined to chase and catch the bad guys. But despite all of the horrors caused by the clowns, Batman never actually killed Joker. And that is why Superman thought of blaming Batman for loving the Joker.
Wonder Woman VS. Ares
After knowing that Diane had less restraint than Superman, Ares tried to prevent Diana so that she could become a bad impact on the other hero. Ares intentionally tried to take down Diana because he knew she was attracted to Superman. And if eventually both of them come together then they'd make the strongest pair that could end all war. The movie fans missed out on this confrontation between Wonder Woman and Ares.
Alfred Defeating Superman
Lex Luther's super pill gave Alfred enough power that he was able to take down Superman of all people. In order to erase Batman as his threat, Superman tried to erase his existence. Eventually, Alfred caught Superman when he attacked Batman by his spine, and after a desperate attempt, he succeeded. The scene was too iconic to leave behind. And this is the reason why Harley Quinn makes fun of Superman in Injustice 2.
Green Arrow Hurting Jonathan Kent
In the comic book, Superman's father was alive along with his mother. The comics explained that Green Arrow who's an important character in Injustice somehow hurt Superman's father. It moreover explained that Superman's father was only injured but not dead. Superman later killed Arrow forcing his mother to take one of the super pills so that he gets enough strength.
When Martian Manhunter Almost Killed Wonder Woman
The incident is considered a legit iconic moment in the comic book. Martian knew that if he lets Superman on his own, he might become one of those dictators who would terrorize his own home planet. But his attempt to reason with Superman and Wonder Woman failed miserably. Later when Wonder Woman attacked him, he entered her body and nearly killed her. Therefore, Superman had to take over and kill Martian. His death is considered one of the most tragic deaths in the whole comic book.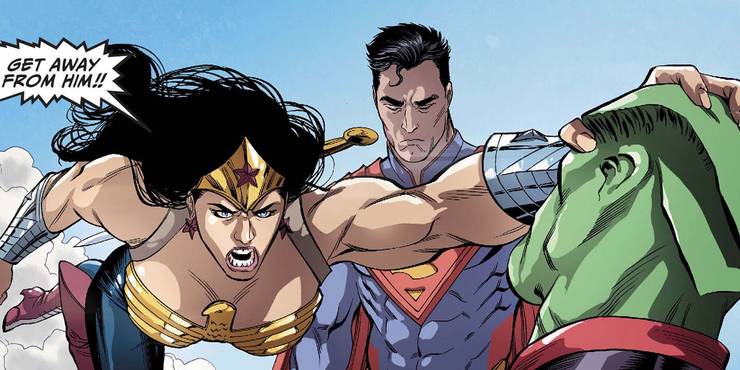 That was all about the Injustice things only comic book fans know that the movie left out somehow. Tell us in the comment section which one do you find more ironic and why.
Also, don't forget to check out our Youtube Channel for fun video content. Here's an attached link. Check it out: