Dace Bautista's Twitter post has made everyone feel his excitement. On August 19, the actor took to Twitter and posted an update revealing that he and Aquaman star, Jason Momoa, will be appearing together in one more movie. According to his post, they both will be starring in a Lethal Weapon-style buddy cop movie. It was legit very difficult to keep calm after reading this on Twitter. And if you're wondering that will they be really working in such a movie, or is this to only test us. Then, no. It really is happening. Jason Momoa confirmed that he & Dave Bautista will be working on this on the show The Late Late Show on Monday night with James Corden.
Just going to throw this out into the atmosphere and see what happens. Here we go… Me and Momoa in a Lethal Weapon type buddy cop movie directed by David Leitch. Ok! There it is. Now we wait.????

— Vaxxed AF! #TeamPfizer Poor Kid Chasing Dreams. (@DaveBautista) August 19, 2021
Jason Momoa on 
The Late Late Show 
While talking to the host of the show Jason Corden, Jason Momoa talked about his ongoing projects. Including Netflix's Sweet Girl and See Season 2, which also has Dave Bautista in it. He explained how this is not just a "wish" anymore and that there is something real cooking up about the "buddy cop" movie.
When Jason Corden asked him about the tweet and if he is in on it too, he explained that Dave Bautista indeed texted Momoa about this, and he loved the idea too and actually replied saying he has an idea. He said, "He literally texted me four days ago, going, 'We need to do a buddy cop film. We love each other. We are on See and Dune together. And I said, 'Absolutely.' And he said, 'Let's do it in Hawaii.' And I said, 'Let's do it. I have an idea.' So it's off to the races now. We're doing it."
Not only the news of the movie happening is true, but it will also be filmed in Hawaii.
"The Movie Sells Itself"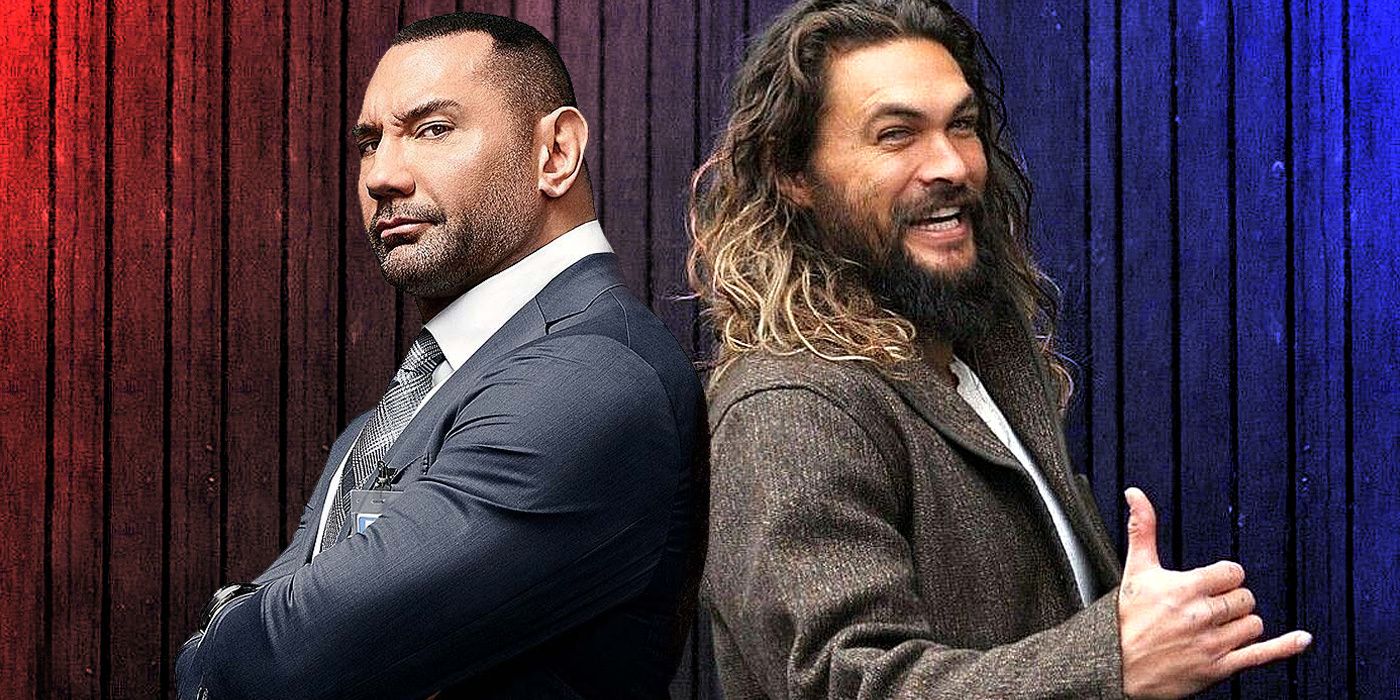 To the initial revelation, he also added that he and Dave are actually excited about the movie. While joking about the idea, he also said how the movie would be a bomb with both of them being their usual selves. "It sells itself, bro," said Momoa. "Dave loves wearing Speedos. I love wearing board shorts. And both of us with our shirts off. He added, "He'll be grumpy, and I'll be charming. Boom. It sells itself, bro. I have the hair. He doesn't have hair. We cover all the demographics." The combination definitely sounds lethal, and Momoa's description simply makes it more exciting. 
Bautista and Momoa has been working together on quite a few projects together. So until there is any further development of this buddy cop movie, we suggest hooking on their other movies and series that are coming this year. They appear in the second season of See, which will be premiered on Apple TV+ on August 27. Additionally, Dave Bautista & Jason Momoa will also be seen in one of the most awaited movies of the year, Dune, directed by Denis Villeneuve, on October 22 on HBO Max.
Source: Interview with Jason Corden