John Wick 4 has finally been released after the fans waited for a long time with Hiroyuki Sanada reuniting with Keanu Reeves after so long. The movie has so far gotten a positive response with everyone enjoying just how magnificently they handled every action sequence involved in the film. Reeves is back in his iconic role as the titular character, taking on the persona of the great hitman who is feared by everyone.
The scenes were further commended for how they basically managed to redefine the meaning of action sequences. Professionals were at play and they admitted that after a point, it was not much effort that they put into the sequences, negating the need for any rehearsals. Reeves loved working with Hiroyuki Sanada and Donnie Yen, having to fight with pros.
Also Read: "I'd worked as his teacher": Hiroyuki Sanada Reveals He Trained John Wick 4 Co-Star Keanu Reeves in Real Life for $152M Movie Before Re-Uniting for $587M Franchise
John Wick 4 Let Hiroyuki Sanada And Donnie Yen To Work Their Own Fight Sequences
Keanu Reeves was able to work with professional martial artists for John Wick 4. Hiroyuki Sanada and Donnie Yen were able to be a part of the movie and they loved working with Reeves just as much as he enjoyed the same. They were given the opportunity to direct their own fight sequences and that allowed them to not rehearse for the specific scenes at all.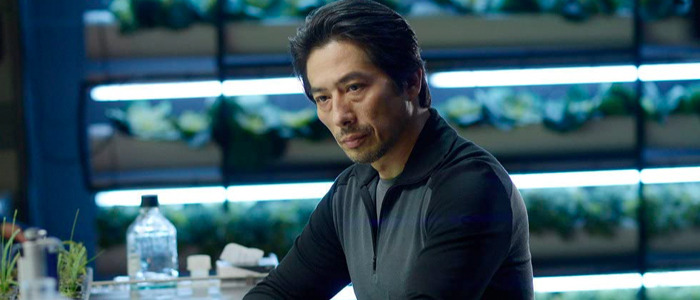 "Once we decided on the choreography, there was no more need for rehearsals, just shoot, shoot, shoot. After a few takes and then we are done. And do high five. And say, 'Next!' It was so easy, fun, and exciting."
Donnie Yen and Hiroyuki Sanada mixed well with each other to an extent where their fusion quickly became coordinated and synchronized. They could work well off of each other and would understand each other's visions. It gave them the freedom to explore their own collaborating skills. In this way, Sanada and Yen were able to form a friendship and would often find themselves enjoying each other's company on the set.
Also Read: 'Bring back Deathstroke, cast Hiroyuki Sanada as Ra's al Ghul': Snyder Fans Demand Ben Affleck Bring Back Joe Manganiello's Deathstroke For His Batman Movie, Cast Sanada as the Demon's Head
Hiroyuki Sanada Could Not Say No To The Role In John Wick 4
Hiroyuki Sanada revealed that the first time he worked with Keanu Reeves was during 47 Ronin. His experience in the movie had been enlightening and Reeves had assured the actor that he would one day make it big in the industry. This further evolved into them having a conversation about how the Matrix actor was going to work on a new movie with Chad Stahelski. This new movie had been none other than John Wick.
"I decided to join immediately and I'm so happy to reunite with Keanu because he's a great actor and a great person. He's always humble and shy, always hardworking, very hard on himself, and very kind to others," the actor continued. "He has never changed. And then this time again, he was the humblest person on set, easy to collaborate with, and friendly. Also, my role, Shimazu and John Wick have been long friends."
He confirmed that when he first got the call from Stahelski about Shamazu's role, there was no way he would have said no. The role had been specifically made for him and there was no better opportunity to reunite with the actor than the massive franchise.
John Wick 4 is now available to watch in theatres.
Also Read: Real Reason Keanu Reeves Agreed To Play John Wick in Iconic $880M Franchise for 4 Movies: "I enjoy playing characters who suffer"
Source: GMA News Online