If the Marvel fans want anything right now, then that is Keanu Reeves in the MCU without a doubt. For a very long time, the fans have been latently campaigning and rooting for Reeves to come over this side. However, all this seemed like a real possibility when Reeves himself revealed that he is in talks with Feige himself and will hop on as soon as they find the perfect role for him. If we were to vouch for it, then Reeves would probably take a role that is recurring, considering his love for continuation. but before all that happens, let's recreate Reeves as different Marvel characters. Check it out!
Ghost Rider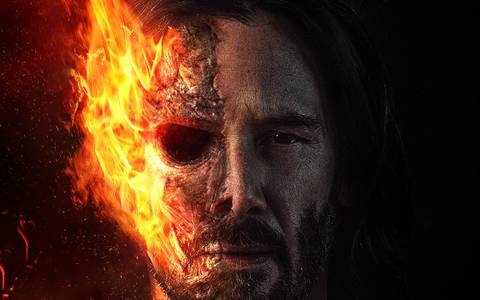 As we can see The Midnight Sons happening sooner or later, it won't be complete without the Ghost Rider, right? Well, some dedicated fans let their imagination run amock, considering Johnny Blaze can indeed come into the MCU and this time, in a proper way (sorry Cage). This fan art perfectly captures the essence of Reeves and the role might just suit him perfectly.
Silver Surfer
Now that the Fantastic Four is coming to the MCU, with our very own Jon Watts as director, we have all the more reason to believe that Silver Surfer too will make his MCU debut sooner or later. The wide spectrum of Silver Surfer is perfect for an actor like Keanu who likes to explore new horizons in his skills.
Wolverine
Hugh Jackman is the living testimony of how to serve a comic book character right. The way he has handled the character of Wolverine over the years is simply perfect. However, his return Wolverine is somewhat discarded now, but once again, let's just keep hoping. Well, until that happens, fans have tried their hand at every character, including Logan. This crazy imaginative art gives us a rage-fueled Keanu as Logan. Honestly, looks pretty awesome.
Doctor Doom
Sooner or later we will see Doctor Doom and when that happens, the entire MCU will explode. Being one of the most iconic comic characters, it would only seem right to let play Keanu play Doctor Doom. However, if you had any doubt about how he'll look, we have just the thing for you. It looks like Keanu can live up to the high expectations that come with playing with this character. As mentioned above, Reeves would probably go for something that is recurring, and playing Doctor Doom can provide just that.
Reed Richards
While the fans are campaigning for John Krasinski to play Reed Richards, some fans have taken the liberty to imagine Keanu as Reed. The fan art says it all. One has to agree that the resemblance is uncanny and it looks like Reeves can definitely play the part. Hence, be it Wolverine, Silver Surfer, or Reed Richards, Reeves will only come to the MCU if his role pans out. What do you think? Which character would suit him the best? Let us know in the comments below!