Disney sure has been infamous (let's say notoriously!) for putting in a very questionable context in shows meant for kids and teenagers. And though now it's hard to slip by for the creators, a few years back, they would put in whatever they wanted and sneak by without being noticed or held accountable. Something similar happened during the whole series of Lizzie McGuire!
AN INAPPROPRIATE STUDENT-TEACHER RELATIONSHIP IN LIZZIE MCGUIRE
In a particular episode called "The Greatest Crush Of All," the story revolves around the emergence of a very handsome substitute teacher in Lizzie's school. As predictable as it could be, all the girls in the school develop a crush on the dashing teacher. They even start fighting with each other for his attention. It's fine until there, but it gets improper when he invites the girls to his poetry reading, even singling out Lizzie! That just doesn't fit the box of "fine". Even if his intentions weren't bad, inviting 13-year-olds to your poetry recital is a mishandling of boundaries and downright inappropriate!
MAKING A TABOO OUT OF THE NEED FOR BRAS
This one is from one of the most famous episodes of the series, named "Between A Rock And A Bra Place". It is set upon the premise of Lizzie and Miranda trying to hide the fact that they now need to wear bras. Although it doesn't seem like a very problematic premise, it really was! It clearly contributed to the stigma of being open about having a discussion about feminine products. And also, the much-needed talk about female needs without any shame or hesitance.
PORTRAYING EATING DISORDERS CARELESSLY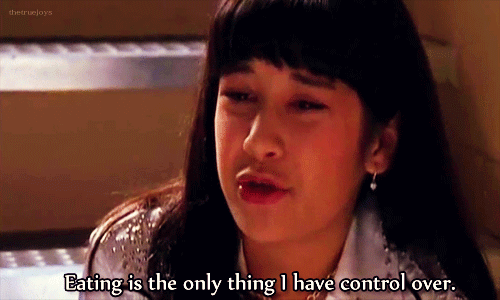 Dieting is one of the most frequently picked up options when somebody wants to start their fitness journey. Unfortunately, it is also one of the most misunderstood and troublesome activities for someone who struggles with an eating disorder or body dysmorphia. In the episode called "Inner Beauty," the creators gave us a wrong depiction of "dieting". It could, instead, be the commencement of an eating disorder for Miranda. As the beginning of most eating disorders is during the teenage years, its portrayal wasn't right. It could have impacted the show's audience very negatively!  
NOT TAKING BULLYING SERIOUSLY
In the episode called 'Picture Day,' Kate spills a bucket full of paint on Lizzie because she wants to ruin her outfit. And no school authority intervenes. In almost every episode, Larry Tudgeman was bullied for his interests or just simply for liking what he likes. And, yet again, nobody objects. Bullying in Lizzie McGuire is just something normal, which it wasn't and shouldn't have been!
PITCHING WOMEN AGAINST WOMEN IN LIZZIE MCGUIRE
The lack of genuine relationships between the girls in Lizzie's school is such a sad story. Almost all the connections, apart from Miranda, are more like Lizzie's rivals or just annoying. Kate's stereotypical mean cheerleader character is guided every day by the emotion of jealousy. And is always keen to just go against Lizzie. There are tons of girl relationships in Lizzie McGuire, but most of them propagate the idea that relationships between girls can't exist without insecurities and drama. Now. that is an absolute lie.