The TV rating for the show Maya And The Three is Y7. Yet, there are many things in the show that you understand only if you are an adult. Jorge.R. Gutierrez writes stories full of grandeur but with a hint of darkness. The show has a mature theme and references from pop culture. All age groups enjoy the show. But there are specific references in Maya And The Three that are meant only for adults.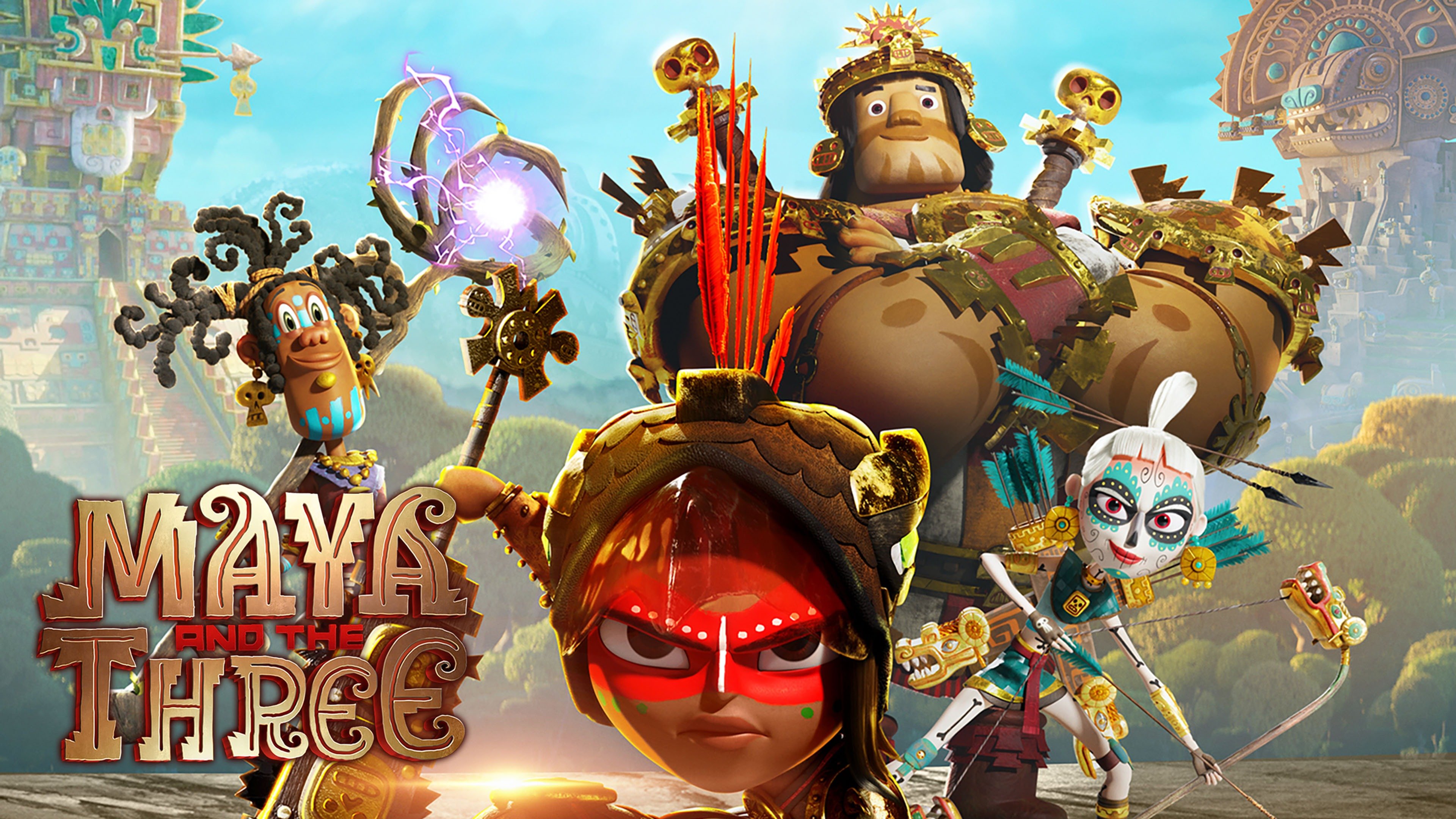 1. The Widow Queen Loses Her Innocence: The Widow Queen has a terrible childhood. Her father is mad and commits a lot of wrong before he dies. When she fights the Goddess of Illusions, Xtabay (Grey Griffin), she is disillusioned. This is evident when she tells her soldiers to fire at her father (Xtabay in disguise).
2. It has a few plot holes: There are some blank spots in the storyline of Maya And The Three. For example, Chimi (Stephanie Beatriz) runs out of arrows in a battle scene. Her quiver is packed in the next scene, and Lord Mictlan (Alfred Molina) makes some serious errors on the battlefield.
3. The four kingdoms represent four cultures: Each of the four kingdoms in Maya And The Three has a real-life counterpart. Chimi is Jungleland; Luna Land references the Arawak communities, Teca embodies the Aztecs, and the Barbarians represent the Incas.
4. The Director has tied in his previous world to Maya And The Three: In the wedding scene of Lady Micte, a lot of guests are from Gutierrez's previous work, "Book Of Life." The Director has roped in voice-over cast members from the cast of Book Of Life.
5. Maya Confronts Her Own self: Maya has a decent life, despite it being full of problems. Chimi had to talk to Maya and put things into perspective for Maya to realize how privileged she was.
6. Couples and Strained Relationships: There are a lot of couples on the show. Adults watching Maya And The Three can see that most of the pairs on the show are working on the problems  with their partners.
7. Mercy: Pichu has learned several lessons about mercy the hard way. A nameless warrior(Grey Griffin) who had spared Pichu's life once returns to slaughter his parents and the entire village. To die a warrior's death is the only way Pichu can redeem himself. Pichu has come a long way and learned the lesson of "Mercy is not something you give. Mercy is something you are".
8. Traumatised Chiapa: Maya's loyal pet Jaguar seems like he has PTSD. He has witnessed more trauma than anyone else and almost cheated Death once. It is no wonder that he bolts at the first sign of danger.
9. Rico is Basquiat: Gutierrez pays homage to his favorite painter Jean-Michel Basquiat in Maya And The Three. Rico's character is based on Basquiat.
10. Every Villain exposes a flaw in their nemesis: All the Villains reveal a weakness in their nemesis. The heroes are taunted about their past follies and memories by their counterparts. This leaves them vulnerable, and  they have to overcome this flaw to win.
11. Maya and The Three has loads of Pop Culture references: The show has direct connections to a Bruce Wayne scene in Batman Begins, others from Akira, Saludos Amigos, etc.
12. Art and Architecture:  Maya and the Three draw inspiration from Mesoamerican civilizations like the Incas, Aztecs, Mayans. He has captured the essence of these worlds beautifully.
13. It pays homage to telenovelas: Maya and The Three are inspired by many sources. These range from Lord Of The Rings, anime, Sunday morning cartoons, and soap operas.