The Mission: Impossible franchise has been around for a long time. And the one thing that its cult following has come to expect is Tom Cruise falling, dangling, and trying all sorts of stunts for the perfect entertainment value. Mission: Impossible 7 is going to be no different.
Tom Cruise is his own stuntman: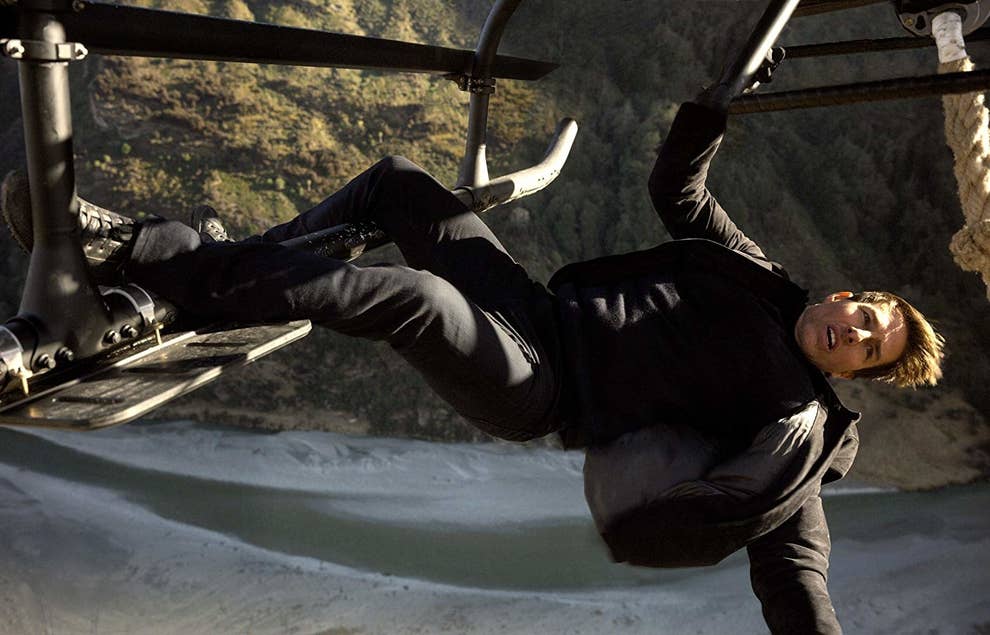 The fans seem to have gotten hooked to Cruise's stunts, the first time in Mission Impossible: Ghost Protocol. Here, Cruise suspended himself on a zipline from the tallest building in the world. Even watching it gave us the adrenaline rush!
And as the sequels kept piling up, these stunts became a racier and racier routine. In Rogue Nation, Cruise went for a ride on a plane. Only that he wasn't inside it but, on the outside of the door, as the plane lifted off the runway. In Fallout, he decided to combine both his previous stunts and dangled from a flying helicopter! He even flew the helicopter for the electrifying finale. The moral of the story is, Tom Cruise isn't a stranger to these life-endangering stunts. But even if the MI franchise seems to be like his personal jungle gym, Cruise pushed his boundaries even further this time.
The Mission: Impossible 7 stunt was a much more complex matter:
The Mission: Impossible 7 set photos showed Cruise riding a bike over the edge of a cliff, off a scary-looking ramp, and then pulling his parachute to land safely. Sure, this looks like a regular day at work on an MI movie set. But this time, Cruise talks about why this was different. He labels this as the most dangerous stunt of his life. And looking at his track record, that's a long list of hazardous stunts.
While decoding this regular-looking sequence, he mentioned, "If the wind was too strong, it would blow me off the ramp. The helicopter [filming the stunt] was a problem, because I didn't want to be hammering down that ramp at top speed and get hit by a stone. Or if I departed in a weird way, we didn't know what was going to happen with the bike. I had about six seconds once I departed the ramp to pull the chute and I don't want to get tangled in the bike. If I do, that's not going to end well."
Shooting in a pandemic:
The actor also spoke about his emotional state while trying to give a blockbuster during the pandemic. Due to the Covid-19 situation, the entertainment industry has suffered a tremendous blow. As the theatres have been opening up with all their safety restrictions, a Tom Cruise M: I movie would undoubtedly attract the moviegoers. "All those emotions were going through my mind," he says. "I was thinking about the people I work with, and my industry. And for the whole crew to know that we'd started rolling on a movie was just a huge relief. It was very emotional, I gotta tell you."
Making a physically demanding movie like this in an emotionally charged environment is sure to have been a rollercoaster ride. We can already tell – even the behind-the-scenes on this one will be worth the watch. With its release date now pushed to May 27, 2022, Cruise and the filmmaker, Christopher McQuarrie, still have a long way to go. And this isn't just about Mission: Impossible 7 but also M: I 8, which will be shot back to back.
Well, fans can't wait to hear about Cruise's stunt shenanigans in that one, and neither can we!
Source: EmpireOnline