If you are a Millennial or someone from Gen Z, then you are already aware that Netflix is one of the basic necessities that people can't live without. The streaming giant is such a big part of everyone's life these days that many times, people start conversations by asking each other's favorite TV shows and movies, which less often than every time, can be found on the OTT platform. So far, the company has recorded over 36,000 hours of content and counting.
And every week, the platform has at least 5 new shows or new seasons/installments of previous shows and movies, so rest assured it has something for everyone, and it keeps on going. Thus, when the company received the rights to stream G.I. Joe: Rise Of Cobra, they decided to take a dig at one of the movie cast, who happens to be Channing Tatum. Although this was supposed to be a joke, fans had other plans in mind.
Netflix's Joke Backfires As Fans Demand The Revival Of Warrior Nun And 1899
Since most of the subscribers of the streaming giant know that Netflix has the business model of ownership rights to stream everything that the subscriber wants to watch, which is why it spends Billions on acquiring/making content ranging from TV shows to Movies of every genre in existence. Thus, when it announced that G.I. Joe: Rise of Cobra while also trolling Channing Tatum, the star who hates the movie despite being a part of the movie, it lead to complications, but not with what a person would think.
You may also like: Channing Tatum Took Inspiration From Jeremy Renner to Quit G.I. Joe, Pleaded 7 Times to Get Him Killed: "I f—king hate that movie"
When the streaming giant decided to announce to all its subscribers that the G.I. Joe film was available to stream on its platform Netflix, it also decided to alert Tatum about it with a classic rhetorical comment. But fans of the show Warrior Nun and 1899 were ready to blast the OTT platform, questioning as well as demanding them to bring back these shows to the roster.
Don't tell Channing Tatum but… G.I. Joe: The Rise of Cobra is now on Netflix pic.twitter.com/vxqrEj9jnG

— Netflix (@netflix) January 18, 2023
While Netflix thought this would just be a friendly chuckle for its subscribers and well as Tatum, they didn't think it would turn into this. Fans were furious, blasting the platform for bringing old movies and shows, but not reviving the shows that they produced.
Yeah, that man with no talent whatsoever that no one cares about. And again he is playing masculine man with a gun, what a fresh new idea!!!

Bring back your actual talents!#save1899 #NetflixCorrectYourMistake pic.twitter.com/SPtCmDAcUi

— Azoria #нетвойне (@Azoria_J) January 19, 2023
When is warrior nun season 3 and 4 and 5 and 6 dropping!!! I'm not asking!!!!!

LEMON DROP #SaveWarriorNun #WarriorNun pic.twitter.com/ktaEfaMvlQ

— Em | #SaveWarriorNun (@emhalobearer) January 18, 2023
Bring back your cancelled shows. We all deserve closure and a fair treatment. #save1899 pic.twitter.com/Jk41RZbb7H

— Ivy Daniels 🜃 #save1899 (@IvyDani92583303) January 19, 2023
BRING BACK WARRIOR NUN

LEMON DROP #SaveWarriorNun #WarriorNun pic.twitter.com/gHvc5wBm7V

— dan | SAVE WARRIOR NUN (@dannwine) January 18, 2023
1899 was just too sexy for an American company I guess. pic.twitter.com/rnR98QuLFz

— Love, Danny 💜 (@DannyWxo) January 18, 2023
You may also like: Netflix Releases First Trailer of Copenhagen Cowboy Marking Nicolas Winding Refn's Return as Fans Demand Streaming Giant For Warrior Nun 2
Why Does Channing Tatum Hate G.I. Joe: Rise of Cobra?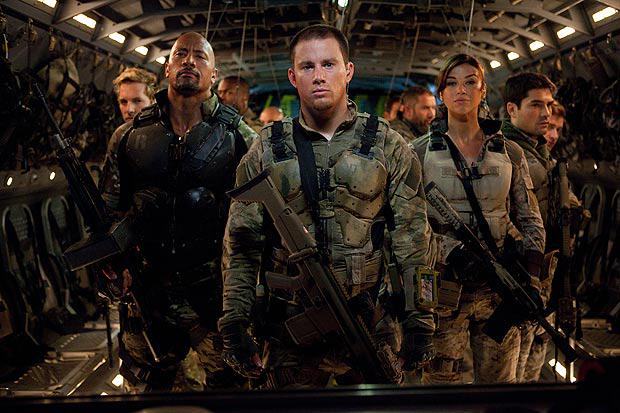 It's no secret to the fans of Channing Tatum that he borderline despises the existence of G.I. Joe: Rise of Cobra, which he has himself repeated time and time again. He has publically said on record that the only reason he signed the contract was due to his role in Coach Carter and that being a young actor at the time, the contract was practically pushed on him, but as he grew older and started to understand the scene, he hated doing the movie, even going so far as to ask the franchise to kill his character in the next movie.
You may also like: "We've got to let it go": Channing Tatum Reveals Marvel Doesn't Want His Adult Rated Gambit X-Men Movie, Claims He Calls Kevin Feige to Get it Done
G.I. Joe: Rise of Cobra, now available on Netflix
Source: @netflix