The craze for Squid Game is explosive. There isn't even a single coffee shop that hasn't introduced a free drink for winning the Dalgona challenge. Such kind of influence is directly reflecting the success of the show. This result can only be possible with an engaging storyline and, most importantly, a great set of characters. People have emotionally bonded with all the players and the stories they had to tell. Let's check out where all of these characters stand on our likability list and why.
17. OH IL-NAM: The old dude went so far and beyond just to fill a void in his life. While his death in the game was amongst the tragic ones, we're sure no one felt a thing when he died on his bed.

16. THE VIPs: We knew there was some involvement of betting all along. But when we actually saw these spoiled, rich, good-for-nothing characters enjoying the game, there was only one word left to say, and that is, Cringe!

15. THE ORGAN HARVESTERS: This was a massive group of people who were taking care of the CCTV footage, identifying half-dead bodies, supplying the body safely instead of burning them. However, we only got to see what the divers and the ones assisting the doctors had to say. It was monstrous how they would rape a dying woman. The bastards weren't even loyal to their master.

14. JANG DEOK-SU: He was a relentless killer who would not think twice before diminishing anyone who got in his way.

13. THE PRAYING MAN: His entire presence was highly creepy. But the worst part about him was his stupid explanation of how God chose to protect him over the others. Others only sacrificed themselves to make his life better.

12. CHO SANG-WOO: People may still perceive him as a good person. But hear this out loud, He wasn't! The very first time he decided "not to keep all eggs in the same basket," we knew he would sabotage anyone to win.

11. HWANG IN-HO: He was the most mysterious character in the show. Nobody presumed that he would shoot his own brother. Is there a backstory to this transformation?

10. THE PEOPLE IN RED: We don't know what kind of deal got them into this game—but signing up for shooting innocent people, that can't be nice.

9. THE DOCTOR: He played his version of the survival game. However, it was much grosser his way.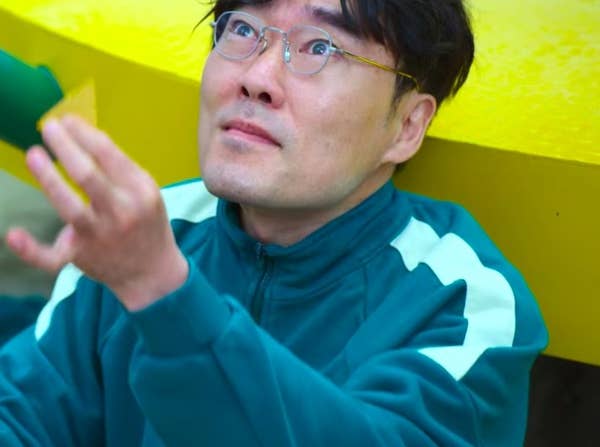 8. THE DETECTOR DOLL: She was not a living character, but she sure has a separate fanbase. However, if we see this doll in public, we're running for our lives, or maybe standing still?

7. THE SALESMAN: He sent people into the hellhole, but who cares. We're all crushing on him.

6. HAN MI-NYEO: She was savage, irritating, funny, and low-key pleasant. She's got the whole package. But, mainly, she was a total badass.

5. HWANG JUN-HO: He is the guy we need in our lives- no kidding. The way he pulled off being an imposter and survived without getting caught, brilliant! (All for his stupid brother)

4. SEONG GI-HUN: He was the sweetest of all characters. Being in such life-threatening situations and not being selfish? That's not everyone's cup of tea.

3. JI-YEONG: We wish there were more time for us to know the girl better. But even then, this one was a true sacrifice.

2. ALI ABDUL: When Ali stood there realizing what had happened, with a gun pointing at his head, we think we developed trust issues for life.

1. KANG SAE-BYEOK- She was the toughest person we know from the show. We wish we could see her family reuniting. She deserved so much better.