Being John Malkovich, JCVD, This Is The End, and now, The Unbearable Weight of Massive Talent. These films have managed to find success and fandoms within a small niche genre of cinema where prominent celebrities play alternate versions of themselves in film. The concept is usually played for laughs (This Is The End) or, in some cases, as a form of deep self reflection for an aging star trying to find relevance in the modern era (JCVD). In Massive Talent, it's both. And if that sounds like an incredibly difficult task to pull off, its because it is. And yet, against all odds, Massive Talent delivers an entertaining and engaging story filled with laughs, heart and (most importantly) Nicolas Cage.
In Massive Talent we see a version of Nic Cage who's desperate for work, drowning in debt and losing the respect of his family. His attempts to maintain a relationship with his teenage daughter only seem to push her further away. When his agent (Neil Patrick Harris) tells Cage about an offer to attend a super fan's birthday party for the price of one million dollars, he begrudgingly accepts with the intentions of paying off his debt and retiring from show business. But when he meets the super fan, Javi (Pedro Pascal), Cage is swept into an active CIA investigation that will test his loyalties and push him in ways that he's never been pushed before.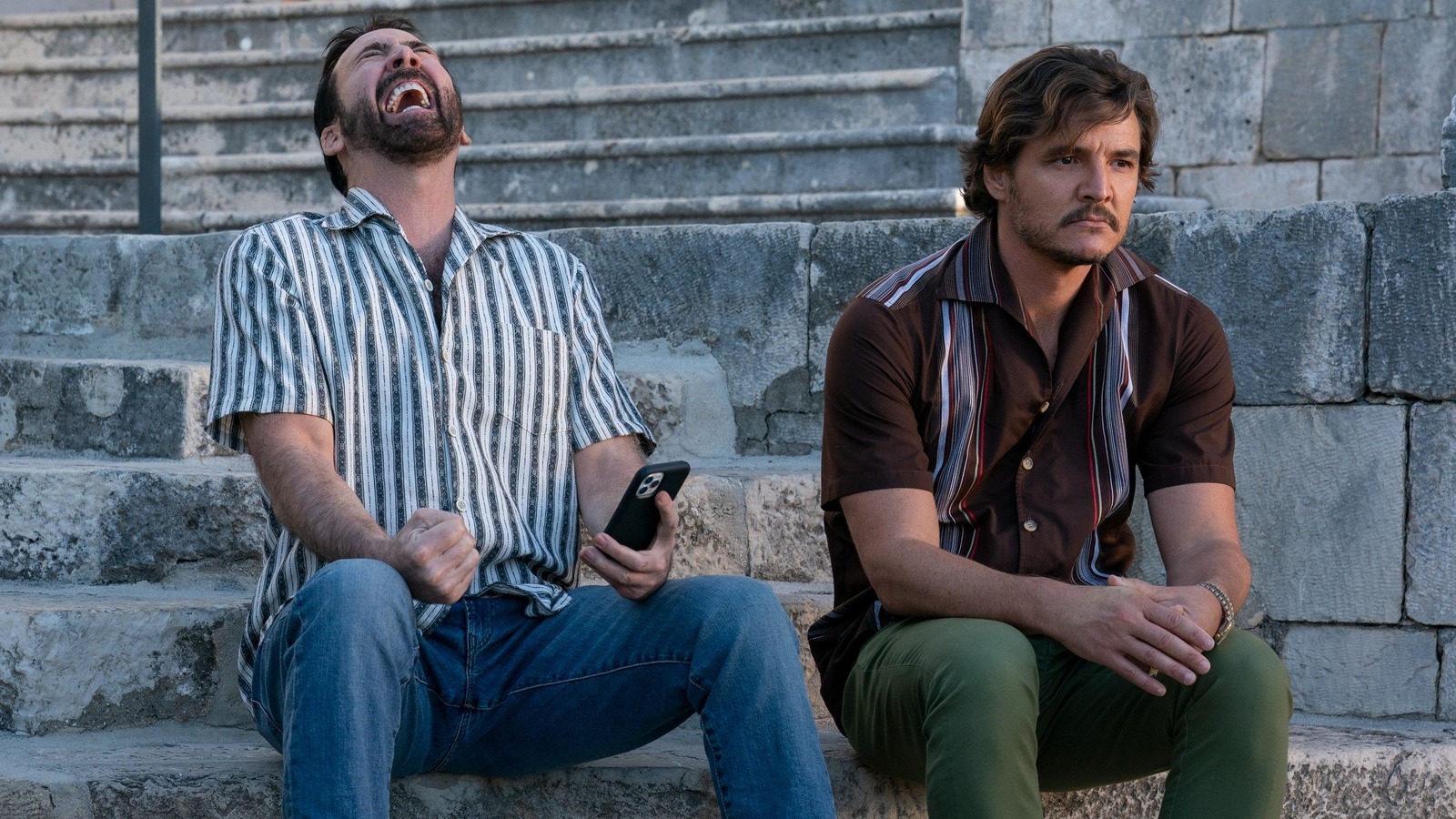 Recent years have seen Nicolas Cage exploring smaller, more eccentric films and redefining himself as a performer. Films like Mandy and Pig have allowed the actor to deliver some of his best performances since his Oscar winning role as Ben Sanderson in Leaving Las Vegas. Massive Talent explorers this transition in style through the loving lens of a Nicolas Cage super fan. It continuously pays tribute to the star, and honors his legacy through flashes, nods and easter eggs of his long running career on the big screen. Like a shrine to his work, Massive Talent gathers the legacy of Nicolas Cage into a time capsule. But it's not only a love letter to Nic Cage himself, but a love letter to cinema as a whole.
Pedro Pascal (The Mandalorian) does the impossible. He manages to shine even brighter than Nic Cage with his portrayal of the star struck cinephile (who may also be a drug lord), Javi; but, its the chemistry between the two of them during their shared screen time that launches Massive Talent to the next level. Their friendship and instant connection feels natural, and the bond between them is believably strong. Director and co-writer Tom Gormican is a self proclaimed Nic Cage fanatic. That undeniable love for the man and the myth that is Nic Cage spills from the pages of the script and to the screen with a seamless efficiency.
The Unbearable Weight of Massive Talent is a film for those of us who love going to the movies. Whether you love The Cabinet of Dr. Caligari, or prefer Paddington 2, Massive Talent is broad enough to please a very wide spectrum of movie goers. My theater was filled with an audience who laughed at the jokes, cheered at the insanity and genuinely embraced the experience of Nic Cage's wild adventure of self reflection and espionage. Who would have guessed that one of Nic Cages best performances would be playing.. Nic Cage? 8.5/10
Follow us for more entertainment coverage on Facebook, Twitter, Instagram, and YouTube.