Thor: Love and Thunder hits cinemas Friday, July 8th. Sure, that's still over a week away, but in the meantime, how about some eye opening, and often hilarious, behind the scenes insight into the MCU's newest entry? I had the pleasure of attending a virtual press conference for Thor: Love and Thunder last week. All of the main cast and creators were in attendance: Chris Hemsworth, Natalie Portman, Tessa Thompson, Taika Waititi, Christion Bale and, of course, Kevin Feige.
#ThorLoveAndThunder is what you'd expect from Taika Waititi. Full of heart, great music and tons of comedy. Bale is fantastic as #Gorr , but it's Natalie Portman who steals the show. When she wields Mjölnir she IS the Mighty #Thor . Another solid entry in the #MCU. pic.twitter.com/KallwLdBl5

— Joshua Ryan (@MrMovieGuy86) June 24, 2022
Big Muscles, Are Hard Work
One look Natalie Portman in the Thor: Love and Thunder trailer and there is no doubt that the Oscar winning actress spent some time in the gym to prepare for her new role as The Mighty Thor. During the conference she spoke about the difficulties of committing to the training and how much she respected co-star Chris Hemsworth for sticking to it.
"It gave me a renewed respect for what Chris (Hemsworth) has been doing for over a decade."
There's no denying that Hemsworth has been devoted to his workout and dietary commitments prior to, and during, filming for Thor: Love and Thunder. We detailed the extensive routine here: Chris Hemsworth's Thor Love and Thunder Workout Routine. But according to Thor himself, "Natalie (Portman) led the charge in the gym."
You Either Die A Hero, Or You Live Long Enough To See Yourself Become The Villain
Christian Bale is certainly no stranger to playing the hero. The Oscar winning actor previously played Batman in Christopher Nolan's The Dark Knight Trilogy. However, he's no stranger to playing the bad guy, either. Just look at his terrifying performance in the cult classic American Psycho. In fact, Bale quite enjoyed the opportunity to embrace the madness of Gorr the God Butcher in Thor: Love and Thunder.
"There's a great pleasure in playing a villain. It's much easier to play a villain."
Thor Is Better When He's Funny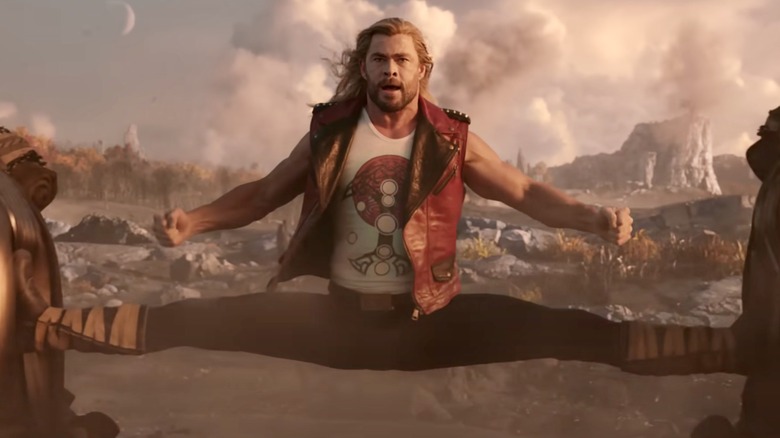 Taika Waititi first came on to direct Thor in Thor: Ragnarok. There was no denying the tonal shift between that film and the previous two installments. But that shift wasn't an easy one. Waititi struggled with finding the right direction to take the God of Thunder.
"It was very hard to figure out how to make him relatable."
The decision to ultimately take Thor in a more comedic direction was based largely on Chris Hemsworth's own knack for cracking jokes. According to Waititi, Hemsworth is a naturally funny man. "He's not acting." Waititi said during the conference, that he looked at Hemworth's own humor, and decided that Thor should be funny, as well. And most fans seem to agree. Thor: Ragnarok was the best received entry in the Thor franchise and Thor: Love and Thunder is likely to follow that trajectory.
Follow us for more entertainment coverage on Facebook, Twitter, Instagram, and YouTube.