Venom 2: Let There Be Carnage is said to be breaking all records of smashing the box office since the Covid norms lifted! It has managed to surpass its predecessor massively. Tom Hardy stars as reporter Eddie Brock. The film, like its predecessor, is set in beautiful San Francisco. The difference is, now Eddie and Venom are learning to coexist. But the duo breaks up soon after and Eddie evicts Venom from his body and apartment. However, when the villain Cletus Kasady shows up, both of them reunite and save the world. Coming back to the Tom Hardy tribute. The actor loves Axel Foley and the show Beverly Hills Cop so much that he subtly paid tribute to them! How? Check it out:
Tom Hardy Subtly Pays Tribute To Axel Foley In Venom 2
Nobody would've noticed Tom Hardy's clothing. However, it was two clothing items that gained notice. Tom Hardy requested that he wears a shirt and a jacket that were prominently Eddie Murphy's style in Beverly Hills Cop. Eddie Murphy played the iconic character, Axel Foley, in Beverly Hills Cop. However, Tom didn't straight up copy Axel Foley's t-shirt and jacket design. He modified it.
Eddie Brock, played by Tom Hardy in Venom 2, wears a Detriot Lions jacket with a Mumford Phys. Ed. Dept. t-shirt underneath to pay tribute to the Beverly Hills Cop franchise. This was Tom Hardy's unique way to tell the world how much he loves Axel Foley and the Beverly Hills franchise. Even though Tom Hardy modified the outfit, he made sure it looked authentic to Axel's style.
How Did Both The Outfits Differ?
Axel's jacket had white sleeves and white detailing with a white and blue helmet (the NFL team's color) featured on the chest. However, Tom's jacket was black with a dark blue helmet positioned on the chest. Likewise, the t-shirt that Axel wore was white with grey letters. Whereas, Tom's t-shirt has black with white letters.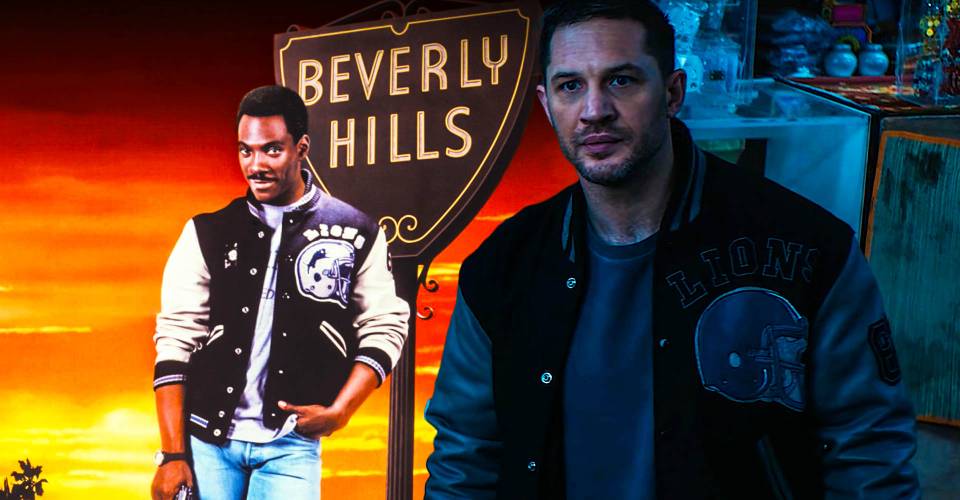 Despite these modifications, it does tend to pay a fun tribute to the iconic character. When asked why he wanted to do this, Hardy said "When I was a kid, I grew up and I remember thinking, 'Oh man, that character is so cool." Well, not just the character, but what Hardy did was cool too!
Source: Detroit Free Press