Some of the best movies made today within the sci-fi or superhero genres are mostly reliant on CGI, while most physical stunts are performed by actors'  stunt doubles, instead of by themselves. One is then reminded of the human spectacle that action hero Jackie Chan was in his heyday, and even today at his age. Chan would perform almost all his stunts himself, with there being no question of CGI or the like.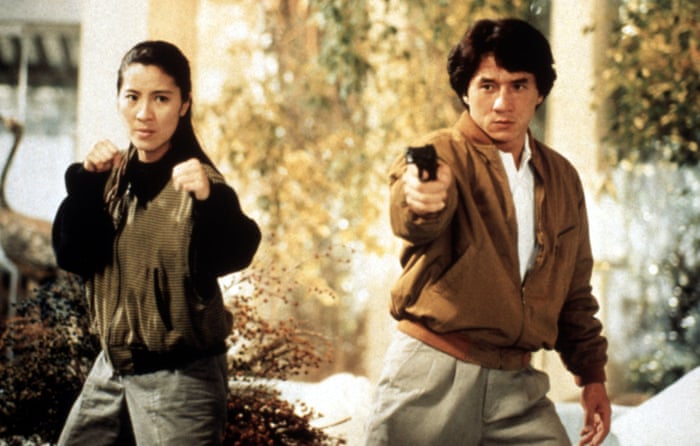 Chan performed in several action-hero franchises, most memorably the Rush Hour franchise. Police Story 3: Robocop (1992) was one such movie, where Chan, already an established icon, met Michelle Yeoh for the first time. Yeoh rose to prominence having performed several of her stunts herself in the film alongside Chan. Yeoh recently won the Academy Award for Best Actress for her role in Everything Everywhere All At Once (2022), and fans were reminded of her earlier experiences working with Jackie Chan.
Oscar-winner Michelle Yeoh talks about working in stunt scenes with Jackie Chan
Michelle Yeoh has also been featured in a couple of movies ravaged with CGI, within the MCU: Guardians of the Galaxy Vol. 2 (2017) and Shang Chi and the Legend of the Ten Rings (2021). In an interaction with The Guardian, Yeoh talked about her character in Shang Chi, where she played an auxiliary role, like in Guardians of the Galaxy Vol. 2, albeit both were different roles.
Read More: "We were homeless for a month due to homophobic parents": Jackie Chan's Estranged Daughter Doesn't Want to Reunite With Her Mother Elaine Ng
Yeoh reflected back upon her long career and talked about working with Jackie Chan and how he asked her to stop doing her own stunts, and how she responded.
"I told him, 'You're a fine one to ask me to stop! You're always doing them,'…Chan responded, 'that's because when you do one, I have to go one better.' The pressure was on him, poor dude."
The interviewer then asked Yeoh whether it was "true [Chan] thinks women belong in the kitchen rather than in action movies?", to which Yeoh said that Chan did think so, before she 'kicked his butt'.
Everything Everywhere All At Once star Michelle Yeoh wins Oscar for Best Actress
Jackie Chan's comments about Michelle Yeoh might not be foremost in one's mind as the world watched the Malaysian actress take the biggest stage in Hollywood and make it her own, winning the Academy Award for Best Actress, for her role in the 2022 sci-fi drama Everything Everywhere All At Once. Her victory broke the Internet as fans the world over called her well deserving of the top accolade.
Know More: Everything Everywhere All at Once Officially Breaks Lord of the Rings Record Amidst Michelle Yeoh's Controversy of Breaking Rules Ahead of 95th Academy Awards
Everything Everywhere All At Once did spectacularly well at the Oscars 2023, which was being held at the Dolby Theatre in Los Angeles. The movie swept the awards, winning the top prize as Best Picture, while actors Jamie Lee Curtis and Ke Huy Quan won awards for Best Supporting Actress and Best Supporting Actor. The movie also won the award for Best Original Screenplay, Best Film Editing, and Best Director – a win for director Daniel Kwan, capping off a memorable Oscars rout for a movie.
Source: Resonate