It's not even a month since Eternals was released, we now have the news of its sequel. The movie debuted a super fresh team of not one, not two, not three, but eleven superheroes. They were a race of immortal beings who were secretly living on Earth. However, they had to reunite to fight a battle against the Deviants to save the people of the Earth. The movie received a bad Rotten Tomatoes rating but it's definitely worth a watch. Moreover, the movie ended with lots of cliffhangers. that need to be sorted. So, continuing it with a sequel was a wise decision. Also, we all know the nature of MCU movies. They are known to be continuing in nature. Also, characters in the MCU freely roam around in other MCU films too! So, these Eternals might just pop up in some other MCU movie someday, who knows?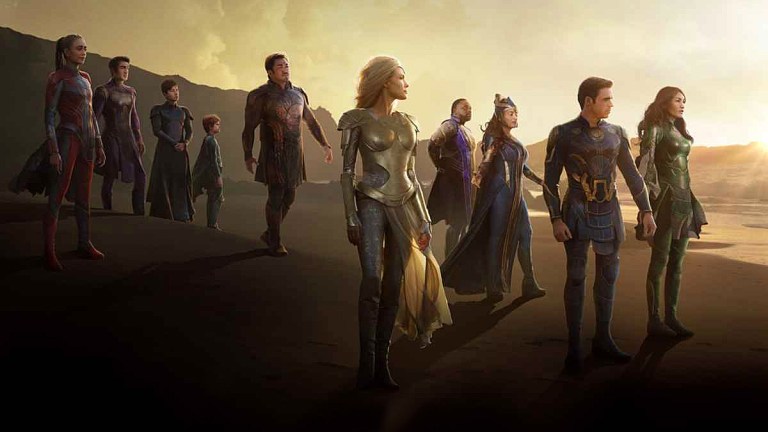 Eternals 2: Writers Hint That It Could Be An Intergalactic Rescue Mission
The Eternals ended with many cliffhangers that needed to be sorted. So, now we have Eternals 2 that will answer all the questions you have after watching the first one! You must be curious to know what the second installment could be about. Recently, the writers of the movie conversed with ScreenRant and revealed that the second movie could be an intergalactic rescue mission. Ryan Firpo and Matthew 'Kaz' Firpo revealed that they didn't have a concrete storyline to follow, but multiple. This is when Kaz hinted that the team could be taking part in an 'intergalactic rescue mission'. This is what the writers have to say:
"Ryan Firpo: The analogy that I use a lot is that, if you're playing chess, then your objective is to checkmate the opponent, but you don't know exactly how you're gonna do that – you're setting up a bunch of paths to victory, and I think Kevin and everybody at Marvel is brilliant chess players, and they know how to set those pieces up and give themselves multiple paths to victory. So while there is not specifically the exact storyline, we have a lot of ideas of where we could go, and it'll be based on a lot of other variables that come to fruition.
Kaz Firpo: I think the words 'intergalactic rescue mission' is pretty clear where we're gonna have to go."
Cliffhangers In Eternals:
Eternals movie placed its characters on divergent paths. The Emergence was halted and Celestial Tiamut was born. After which the team parted ways. Thena, Druig, and Makkari left Earth in search of more Eternals. On the other hand, Sersi, Phastos, Kingo, and Sprite stay on Earth. We even see Ajak dying in the movie. However, Salma Hayek had signed a contract with multiple Marvel movies. So you never know she comes back. How? No clue as of now.
This movie has brought the Eternals into the forefront of the MCU and it might have long-term effects on the MCU. The Celestials using multiple worlds to birth more Celestials is anyway a good hint at threatening the wider galaxy as more planets can face their own emergencies.