The Netflix series "Lucifer" has a bunch of breath-taking and spontaneous moments. However, not just on the show! Their activities on the set were just as bizarre!
7. There Was a Biker Gang on Set: The cast of "Lucifer" loved riding bicycles and getting exercise out of it! They often rode around the studio together and had some real competition going on to keep the set all fun and pumped up!
5. Lauren German played pranks on her co-stars: Lauren German, who played the role of a cop, was quite a prankster on the sets! Tom Ellis had a little disliking for one of the actors they had on for an episode. Lauren kept this in mind and later used it as a perfect chance to pull on a prank on his beloved co-star. On his birthday, Tom entered his room to find it filled to the brim with cardboard cut-outs of a certain actor who he disliked and got quite a surprise! And even though Lauren quite didn't confess to it, everyone knew who was behind this fun shenanigan.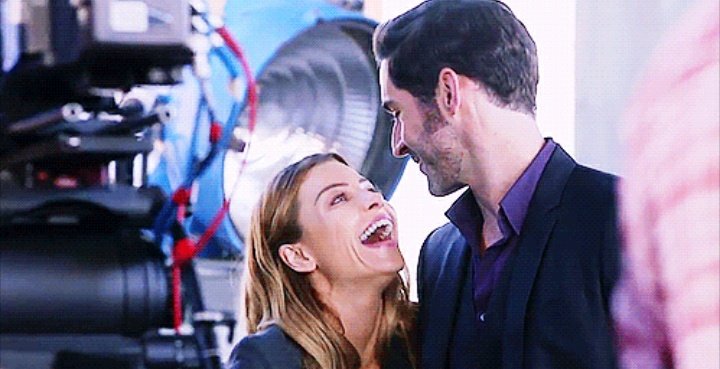 .
4. Tom Ellis Sang his own songs: The music in the show was an absolute eerie and a melodious delight but very few people know that Tom himself contributed to some of it! Remember the nightclub Lux? That is where Lucifer plays the piano and sings with gusto. All of those beautiful music was created by Tom, who sang for the scenes himself! 
3. Tom Ellis Also Did His Own Nude Scenes: Lucifer has all the confidence in the world, if nothing else, and so does Tom! Even though it's really common for actors to request a nude body double for their more certain scenes, Tom went ahead and said that he would do his own nude scenes. Now that's some real dedication to the role!
2. Kevin Alejandro had tattoos — which was never seen on TV:  Detective Dan loves his tattoos and has several of them too. But the makers of the show were adamantly against him showing any tattoos on the show. It is quite strange, considering it's a show literally about Satan himself! However, it is also possible that they wanted Kevin to match more of a certain image, and hence the tattoos were all covered with makeup on the show.
1. There was literally a pizzeria called "Lucifer's Pizza" near the set!: It's quite a coincidence, right! But it was true nevertheless. One day the cast got free pizza from a local pizzeria, which was located only a few minutes away! Ellis also promoted the pizzeria in a YouTube clip video proudly showing off a pizza box with the Lucifer's Pizza logo on it!
So that was it for some of the most interesting "backstage" incidents with Lucifer. To find more interesting content, check out our YouTube channel