In 2016, the Duffer Brothers came up with Stranger Things that was a sci-fi horror drama. It was about a group of young friends that witnessed supernatural forces and secret government exploits. As they tried looking for answers, they discovered a series of mysteries. However, after 3 seasons, they took a break. A rather long break. Break of almost 3 years. No, COVID-19 isn't alone to blame for the delay. The series' production process was slow and of course, the pandemic caused a delay. But now we have the fourth season under production and will be premiered in 2022. To boost up the fans' excitement, Netflix released an official map of Hawkins that gives us a detailed view of important locations. Check it out:
Stranger Things: Netflix Released A Map That Shows Detailed Look At Hawkins Locations
Stranger Things Season 4 will premiere in 2022, thanks to the pandemic and slow production process that fans had to wait for almost 3 years for the fourth season. Fans were already excited for the fourth season. But Netflix furthered their excitement by releasing an official map of Hawkins, Indiana, a fictional town in the series. The map shows a detailed view of important Hawkins locations.
Kyle Lambert, an artist, had previously done all the artwork for the series. So, Netflix asked Kyle to design a map of Hawkins. The image of the map that was released today shows all the important locations shown in Stranger Things and where all these lies relative to one another.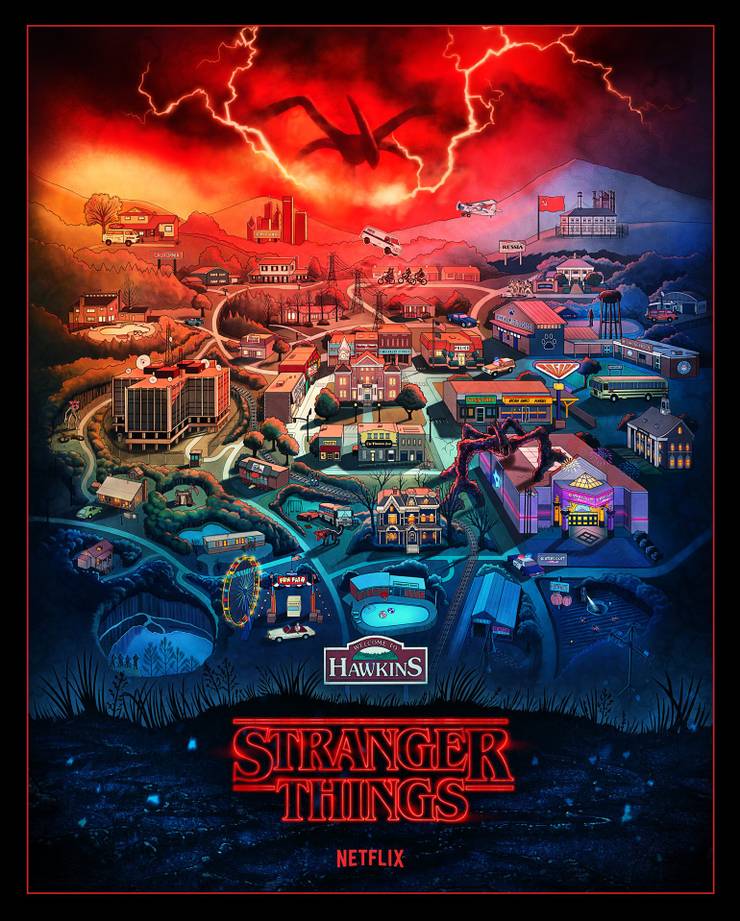 The map shows Hawkins National Laboratory, the Starcourt Mall which is a major location in Season 3, but it ended up burning down. It also shows schools, malls, and several other characters' houses. The map also hints at some of the things that created chaos throughout the series. For instance, it shows giant monsters, a Soviet Flag, an ambulance being thrown into the air, and a gang of bikers. Also, the Creel House is shown on the map. It is the haunted house shown in the season 4 trailer that will be an important location in the new season.
Interestingly, this map doesn't show whats the new season is about. It mostly shows what the previous seasons had! The plot of Season 4 is still kept a secret, not much is known about it as of now. However, this map will surely serve as a reminder that the series is finally coming back after a long break!