Did Chris Hemsworth just get bald to feature in Thor: Ragnarok?
Yes, it's right!
As per the recent reports, it's confirmed that Chris would portray as a bald Thor character.
Not only this, Thor: Ragnarok Concept Art also gives Hemsworth a different take on the armor.
The Marvel Studio visual development team wanted to renovate the look of the character. They decided to try a different approach by giving a new appearance and temperament to the God of Thunders.
Now, this brand new glance of the character makes it more unpredictable and exciting for the viewers.
Most importantly, to find out the main person behind all this creative artwork, one must read this full article.
Thor: Ragnarok Concept Art Features A New Haircut
Chris Hemsworth, (Thor Odinson), known as the God of Thunder, is one of the most famous characters of the Marvel Cinematic Universe (MCU). He was most recognized for his attractive golden hair locks.
But, now the question is, was it even essential for Thor to cut off his amazing golden locks?
As per the revelations, Thor was forced to get an unwanted haircut when he was shooting halfway through the Thor: Ragnarok movie.
He was asked to get almost bald so that he would be able to take part in The Grandmaster's (Jeff Goldblum) gladiator battles.
But, the final product decided to leave him with a little hair still, so that a new concept of Avenger with next to no hair, could be introduced.
This unique piece of concept art surfaced over the past week. In fact, the new haircut of Thor might make the fans imagine him bald as compared to his previous hairdos.
The person behind Thor: Ragnarok Concept Artwork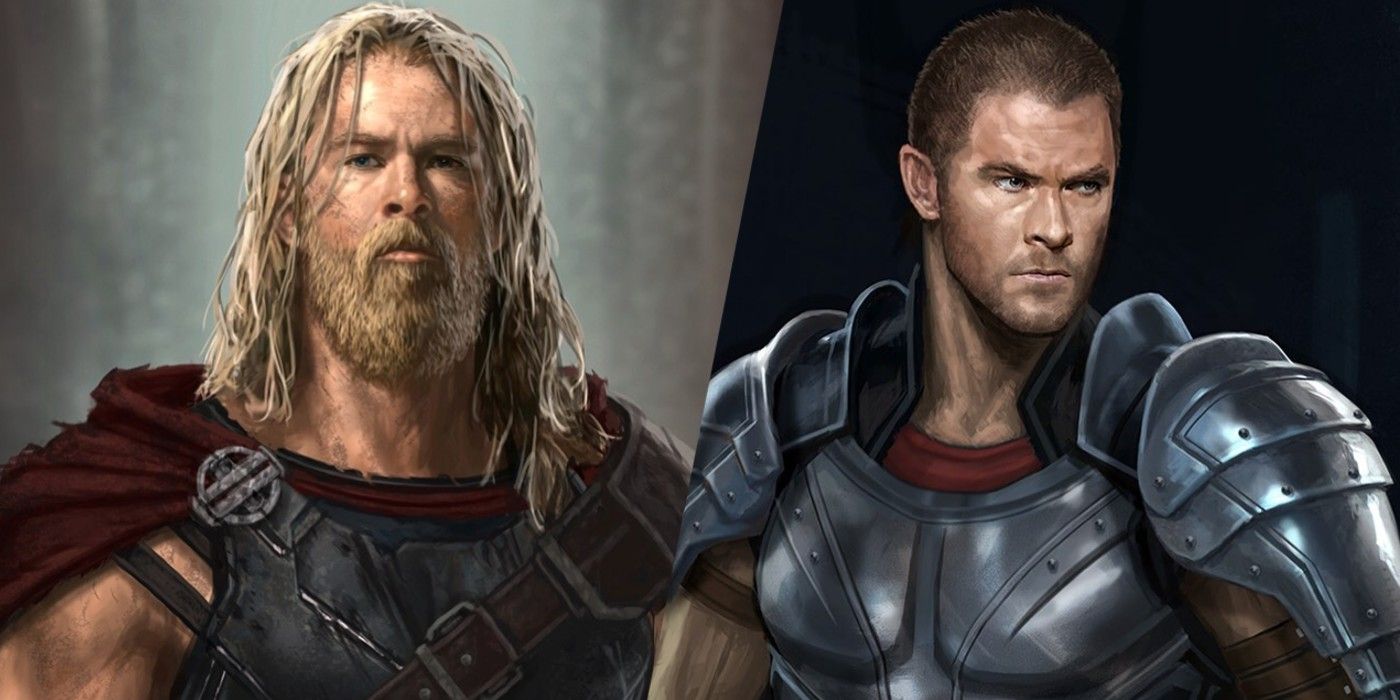 Andy Park, the visual development head from Marvel Studios, shared a whole new creation of artwork.
Park also delivered some of his impressive artworks before, but this idea is entirely unique.
He planned to bring out this new look of personality to the character for featuring him throughout the weekend.
Park even announced this news publicly by posting on Instagram. He shared an image of a potential Old Man Thor.
The post further read as follows, "And here's the other extreme end of the spectrum! This is the haircut; I did during preproduction of Thor: Ragnarok if @therealstanlee went even crazier with those knarly blades of his".
Hemsworth views on the new look of the character
Thor's next appearance in the MCU is said to feature in the movie, Thor: Love and Thunder. Taika Waititi is going to direct this film.
On Feb 11, 2022, the film is expected to hit the screens. For a fact, after the first two rough outings in two Thor features, he almost made himself prepared to hang it up.
But later on, Chris Hemsworth once spoke to Jimmy Fallon about his renewed love for the passion of the character. For his restored passion, he gave the credits to Waititi and Thor: Ragnarok.
He even shared his feelings on portraying this character. Both Chris and the director discussed how much they were going crazy about this new look of the character.
Further, Chris told us that they have a great sense of pride within them as they wanted to do something extremely different. It could be like making this movie funnier and also including many crazy actions to create suspense for the fans.
So, they all decided to reinvent the character and eventually, the world. At last, Chris mentioned that their primary motive was to make the fans and the public love and respond to it wholeheartedly.
However, Thor: Ragnarok is currently streaming on Disney+.
Sources: Comic Book, CBR.