The 90s were a good time to be alive for fans of sci-fi thrillers. While Jurassic Park, Deep Impact, and Tremors are what come to mind when we talk about 90s Sci-fi thrillers, some forgotten ones are worth mentioning.
Darkman (1990)
Before Sam Raimi joined forces with Sony and helped shape the superhero genre with his Spider-Man trilogy, he directed this now little-known superhero movie called Darkman. Starring Liam Neeson as the titular character, Darkman was an anti-hero fashioned out of a story similar to the Phantom of the Opera. Peyton Westlake is a brilliant scientist hideously disfigured in an accident. He now has to rely on synthetic skin of his own design to help catch the ones who did this to him.
Deep Rising (1998)
Who knew that a survival horror comedy like Deep Rising would end up becoming such a cult classic? Stephen Sommers is better known for his directorial work in The Mummy films. But before he achieved mainstream success, he directed this critically misunderstood horror thriller. Sci-fi thrillers like Deep Rising have only grown in popularity in recent years because of the gruesome amount of blood and gore is not something modern sci-fi thrillers could ever hope to bring to the big screens now.
Timescape (1992)
Many must have missed this little-known science fiction movie based on time travel. Timescape is one of those sci-fi thrillers that will entertain you no matter how many times you watch them. Jeff Daniels of Dumber & Dumber fame and Jurassic Park's child star Ariana Richards team up as leads in the movie. The story follows the father-daughter duo coming across a strange group of people with a weird attraction for historical disasters. There are twists and turns that will keep you hooked till the end!!
Dark City (1998)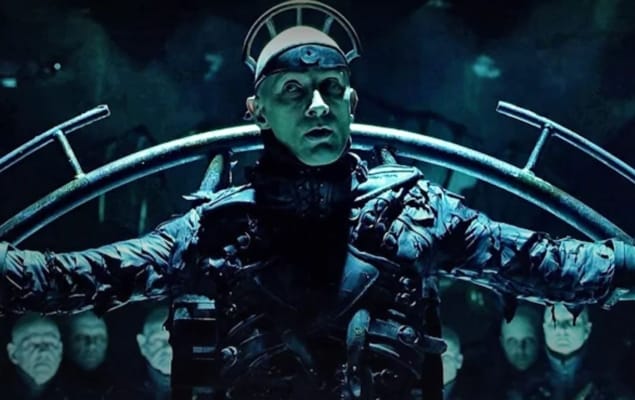 Alex Proyas, who became famous after his rather infamous film – The Crow, gave us a new cult classic amongst sci-fi thrillers. Dark City stars Rufus Sewell as John Murdoch, who awakes in a hotel room with no memories and an arrest warrant out on him. Everyone thinks he is a gruesome killer. As Murdoch tries to investigate why he was framed, he comes across a mysterious underworld group called The Strangers that seemingly control the entire city with strange abilities.
The City of Lost Children (1995)
The filmmaker Jean-Pierre Jeunet is better known for his works on Amelie and Delicatessen. The City of Lost Children might be one of the most underrated sci-fi thrillers of all time. It certainly is Jean-Pierre Jeunet's most impressive piece of work. Ron Perlman plays a strong man in an alternate reality where a mad scientist has kidnapped his brother. The scientist intends to harvest kids' dreams to achieve immortality. The movie has an impressive set of humorous scenes and visual symmetry to die for.
Strange Days (1995)
The movie Strange Days, by Kathryn Bigelow, is one of those sci-fi thrillers you hear once in a while that are called "way ahead of their time". Ralph Fiennes plays Lenny nero, who deals in "Squid recordings". Squid recordings are illegal recordings downloaded directly from the cerebral cortexes of other people. It allows the viewer to basically live someone else's memories. Lenny's life takes a turn for the worse when one of those Squid recordings ends up being a part of a larger conspiracy. Things spiral into really murky territory. Plot twists galore!!
Fortress (1992)
Christopher Lambert plays John Henry Brennick, who is imprisoned along with his wife in an underground, corporate controlled prison called 'The Fortress'. The company controlling the Fortress is trying to use the inmates to perfect mind control technology. Brennick must hatch a plan to break out of the prison once he learns his wife is pregnant.
Sphere (1998)
Not many know this underwater sci-fi movie from 1998. Based on the Michael Crichton novel, the plot follows a group of deep sea explorers/scientists who come across an alien spacecraft deep in the ocean. Inside the spacecraft they discover a perfectly round metallic sphere. And there is more to the object than what meets the eye. Sci-fi thrillers do not get more mysterious than this.