Several times popular comic book characters have been race swapped during their live action debut. These popular comic book characters at least did it right.
Jimmy Olsen
Superman's best pal first appeared in the comic books in 1941. He would become a recurring character in most of the Man of Steel's adventures. When CBS created Supergirl, they chose an actor from a different race to play Jimmy Olsen. This did not sit well with many fans who wanted the character to be played by a white actor, just like in the comics. Mehcad Brooks was also a far cry from the comic book version of Jimmy Olsen. He was older, more mature, and lacked the curiosity of his comic book counterpart. His signature take on Olsen still grew on fans and Brooks became a major player in the show before his departure.
Heimdall
Heimdall is the guardian of the Rainbow Bridge and operates the Bifrost in the Marvel Cinematic Universe. His role is pretty much the same in the comic books as well. But the decision to cast Idris Elba was kind of a controversial one. Heimdall was a background character in the comic books so casting Elba made sense because his star power would at least bring in some fans to the theaters. Fans started throwing logic at Marvel Studios, claiming how a group of Norse Gods would have a Black Heimdall. Marvel responded by changing the status of Asgard. They were only thought of as Gods but in reality, were a whole different race.
Mary Jane
The woman playing Mary Jane have traditionally been white. But Spider-man: Homecoming introduced an African-American Mary Jane. Calling herself MJ, Zendaya masterfully played the hilariously stoic and awkward MJ. In Far From Home and No Way Home, MJ and Peter grew closer together. If not for Marvel race-swapping one fo teh most popular comic book characters, we may never have gotten the total relationship goals that are Zendaya-Tom Holland.
Wally West
The Flash fans consider Wally West to be one of the best comic book characters from the DC Universe. That is because they watched the guy grow from being a sidekick to a full-fledged superhero, taking over for his mentor. After the Crisis event, Wally becomes the Flash when Barry dies. DC rebooted in 2011 and this version of the Flash was temporarily lost to time. CW's The Flash did a gamble when they changed the race of Joe and Iris West. Wally West was introduced later on in season 2. Keiynan Lonsdale has since warmed up to the fans.
Deathstroke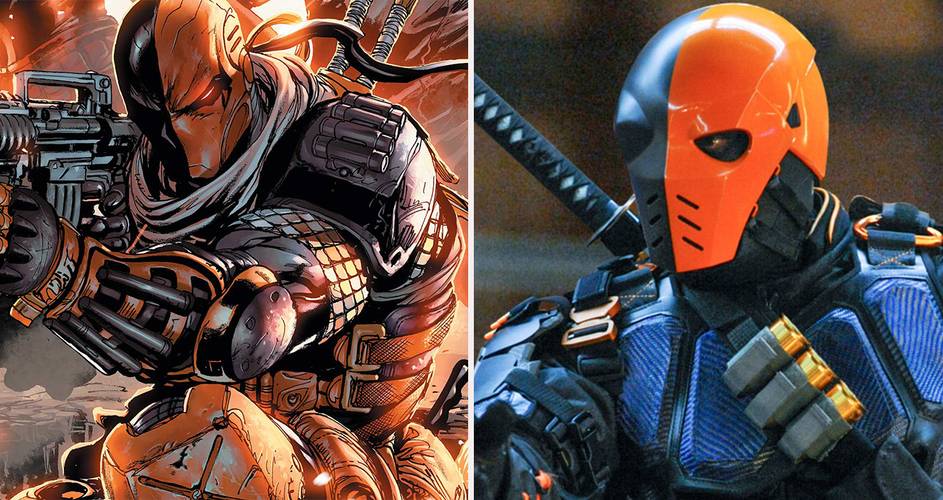 Slade Wilson is DC's most lethal assassin and gun for hire. And he has made live action appearances in both movies and shows. In both times Slade appeared in DC shows, he was played by an actor of a different race. Isai Morales played Deathstroke in Titans. In CW's Arrow, Manu Bennet, an actor of Maori descent, played Slade Wilson. Both of them did a pretty good job and the fans were happy with what they got. Not many popular comic book characters get such universal acclaim like Deathstroke did when he was race swapped.
Bonus: (How NOT To Race Swap)
Goku – Dragonball: Evolution
Granted he is from manga, but that is how the Japanese do comic books. So we guess he counts. A Dragon Ball Z live action film was a bad idea from the beginning. But the casting choices were even sadder when fans heard about it. Despite the movie based on a Japanese character with an origin story set in Japan, Goku was played by Justin Chatwin. Chatwin did not even do a good job at playing Goku. Instead of making Goku look like the food loving grunt he is, he just became a guy with too many girl problems and who keeps dealing with bullies. Basically a superpowered Karate Kid.
Hollywood is full of such stereotypes. Thankfully, we are working towards a better future with more representation.