Popular movie franchises frequently see the lead actor quitting or being replaced for various reasons. But these popular movie franchises failed to make a mark when the flagship actor quit.
Police Academy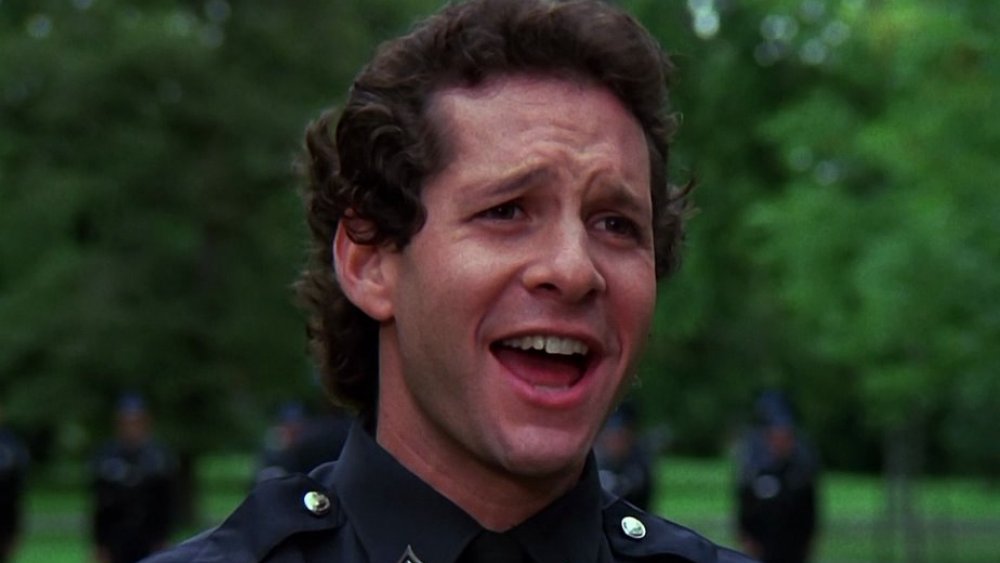 Back the, Police Academy was all the rage across town. Steve Guttenberg had become a household phenomenon with the movie series. As far as Popular Movie Franchises go, Police Academy was up there. Then suddenly, Guttenberg, who played Carey Mahoney, quit the franchise. His character was not recast. Guttenberg's departure saw Matt McCoy take up the lead role but he was not as good. The franchise suffered but not as much at first. Police Academy 5 earned 9 Million Dollars less than its predecessor. Police Academy 6 earned less than half of Police Academy 4. The series was finished after Guttenberg left. Interestingly, the actor expressed his regret for leaving the franchise so early on.
Speed
After 1994 saw Speed turn from an action blockbuster to an absolute cult classic, Keanu reeves was asked to come back. He was supposed to be paid 12 Million dollars for Speed 2: Cruise Control. Many factors led to Reeves quitting what could have been the biggest pay day of his career at that time. Sandra Bullock only agreed to star in Cruise Control if the studio agreed to bankroll Hope Floats. Hope Floats was a success. Speed 2: Cruise Control was a colossal failure.
Bruce Almighty
This Jim Carrey starrer turned up a huge profit in the theaters. So much so that Universal asked the actor to come back for a sequel to this sleeper hit. Bruce Almighty, according to Carrey, did not have enough material to become a good enough as one of Hollywood's most popular movie franchises that could give multiple sequels. It was supposed to be a standalone movie. Universal still pressed on and when Carrey refused, they roped in Steve Carrell to play the lead. Evan Almighty hit the theaters and was a massive failure. It barely made enough to recover its production cost. Evan Almighty lacked the magic of Jim Carrey and that is why it failed.
Home Alone
The first and second Home Alone films gave birth to a great movie series. Popular movie franchises with a christmas theme are a rarity these days. Macaulay Culkin totally owned the role as Kevin McAllister. Home Alone 3 hit the theaters in 1997. The movie had a new lead star – Alex D Linz. Culkin quit on account of his age. The third Home Alone movie was released after a 5 year gap and Culkin was no longer a cutesy kid. Linz's portrayal of the prankster God did not raise many eyebrows. Home Alone 3 took home a mere 80 Million dollars, a far cry from the box office collection of Home Alone 2 – 350 Million dollars.
Bourne
There's a very interesting reason why The Bourne Legacy had Jeremy Renner and not Matt Damon. The director – Paul greengrass, was not on good terms with the studio after making Green Zone. Greengrass left Bourne 4. Damon, who believed in the Director's vision, left soon after that. Bourne 3, which had Damon, grossed about 430 million Dollars. Legacy made less than 280 Million. And it also got critically panned. Damon did return for the next film and it was a hit. No surprises there.
RoboCop
Peter Weller is not the quintessential Box Office star like Arnold Schwarzenegger or Sylvester Stallone was back in those days. But he did bring a level of humanity to the otherwise mechanical character of Alex Murphy aka the RoboCop. Weller quit RoboCop 3 because he was filming another movie – Cronenberg's Naked Lunch. Robert Burke, a then obscure actor, was roped in to play the eponymous character in one of the 80s most popular movie franchises. It was a disaster. RoboCop 3 was lacking on so many fronts. It was a bomb of epic proportions.