Robert Downey Junior or RDJ is one of Hollywood's most celebrated actors. Here's why the life story of RDJ is so darn inspiring. His career evolution is in itself, an Oscar-worthy tale.
RDJ – A Childhood Full Of Substance Abuse
Born to parents who worked in show business, RDJ and his sister were exposed to substance abuse from a very young age. His father Robert Downey Senior was a film-maker. His mother – Elsie Ann, was a down on her luck actor who got caught up in drugs and alcohol. RDJ revealed that he was just 7 years old when he had his first puff of marijuana. He explained why he started getting into drugs:
"When my dad and I would do drugs together, it was like him trying to express his love for me in the only way he knew how."
His Early Years As A Comedian
After growing up and taking up an interest in show business like his parents, RDJ tried his hand in becoming a comedian. He would frequently travel form the East to West Coast in search of gigs. He would then settle in with his roommate – Kiefer Sutherland – for around 3 years. Saturday Night Live was supposed to be his breakout role. Rolling Stone voted RDJ as the worst SNL member in the history of the show back then. Not backing down, RDJ found work in lighthearted 80s movies like Weird Science and The Pick-Up Artist.
Chaplin Was His Breakout Success
RDJ knew that his credibility in the industry was taking a hit. So when he was offered the role of Charlie Chaplin in the movie Chaplin, he took it very seriously. He trained himself to play the violin and play tennis with his left hand like the comedy icon did. RDJ took professional coaching classes to nail the signature behaviour and demeanor of Charlie Chaplin in the movie. He was so good that RDJ was nominated for an Academy award for his phenomenal performance.
Severe Drug Abuse Almost Killed RDJ & His Career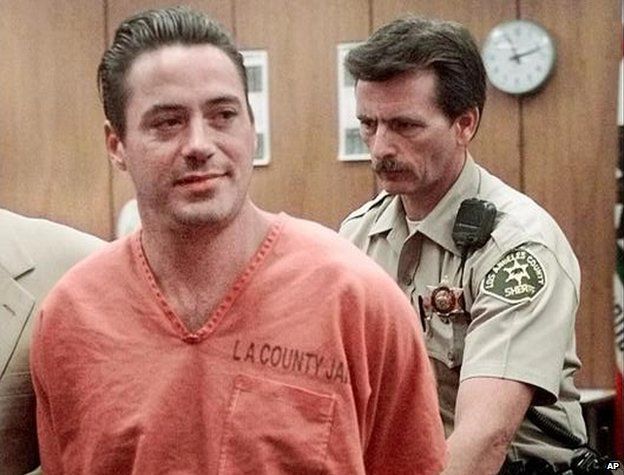 Between the years 1996 and 2001, RDJ was constantly under the purview of the cops. Drug abuse had become second nature to him. In an interview, he claimed why he went into that rabbit hole:
"It's like I have a shotgun in my mouth, and I've got my finger on the trigger, and I like the taste of the gun metal."  
He once broke into a neighbor's home and slept on their bed while under influence. The resultant three years of probation ensured he underwent regular drug testing. twice he missed his mandatory court mandated tests and spent six months and then three years in jail. He lost almost all credibility as an actor after his second incarceration.
Ally McBeal & The Tough Road Ahead For RDJ
After being released from prison a year early, RDj was roped in to play a major role in the hit show Ally McBeal. Ally McBeal got him nominated for multiple award. But the show was forced to keep him under watch after he was arrested yet again for drug possession mere months later. RDJ was arrested yet again post his parole in April 2001 and Ally McBeal kicked him out of the show. After he started seeing a shrink, he was reportedly diagnosed with bipolar disorder and depression.
Iron Man Makes Him The King Of Marvel
"Once we rolled the camera it was inarguable. There was nobody who could say he was not Iron Man."
Marvel Studios was at first wary of hiring a troubled actor to play Tony Stark. But RDJ gave a legendary performance right during his screen test. Jon Favreau was so impressed he even fought for RDJ's case and called him perfect for the role. The rest, ladies and gentlemen, is history.
The Son Becomes The Father, The Father Becomes The Son
Indio, RDJ's first born, was arrested for felony drug possession. His father posted a 10,000 dollar bail and even went as far as to say:
"Unfortunately there's a genetic component to addiction and Indio has likely inherited it. Also, there is a lot of family support and understanding, and we're all determined to rally behind him and help him become the man he's capable of being." 
Full of ups and down, Robert Downey Junior's life seems perfect to be turned into an Oscar worthy autobiography. We hope you read this article and got inspired!!