With idiotic animated shows taking over, it is time we revisit the era of the great early 2000s animated shows. These early 2000s animated shows deserve a comeback via adult swim.
Danny Phantom
This show waltzed into our lives in 2004 and has since achieved a cult like following. Danny Phantom is one of those shows you just can't forget. It was that awesome. If you were into Nickelodeon shows back then, there was no way you did not watch and fall in love with this Butch Hartman series. The show had 53 episodes and was taken off the air in 2007. But the adventurers of the Ghost Zone seriously deserve a comeback. Early 2000s animated shows are some of the best in class and Danny Phantom is an absolute benchmark. With action oriented animated shows making a return to fame, Danny Phantom could see a surge in viewership if it returns to the small screens. If only Adult Swim could get the rights to this show.
Dave The Barbarian
The very concept of Dave The Barbarian is silly but it works. The guy is basically if Don Quixote existed in the Conan The Barbarian universe. Dave The Barbarian was essentially a parody of the sword and sorcery genre. It bought humor and satire to the Hyborian Age. And it worked!! Many fans of the show still remember Dave's antics. From breaking the fourth wall to the incredibly ingenious running gags, Dave The Barbarian was comedy gold as far as early 2000s animated shows are concerned. A hulking barbarian warrior who was just to scared but still fought the evil of his lands – What's not to like!!!
Time Squad
This show is one of the most criminally underrated early 2000's animated shows. It ran for two entire seasons and still escaped many of the fans' radars. A crying shame really because Time Squad is arguably one of the best cartoons to ever come out of the Cartoon Network library. The trio of characters – the ever eager Otto, the muscular Buck and the super-concerned Larry 3000 (this one was voiced by none other than THE Mark Hamill), Time Squad was one of the best things to happen to 90's kids. It was the story of the trio, who are time cops, that traverse time and fix mistakes in the time stream. Early 2000s animated shows are full of meta humor and Time Squad was the very epitome of that phenomenon.
Clone High
An animated show way ahead of its time, Clone High deserved much more love than it got. Basically a teen high school drama satire, Clone High had very intriguing characters to say the least. There was a party loving Mahatma Gandhi, a stoic Joan of Arc, and a helpless Abraham Lincoln trying to make it through school. There were robot butlers and Marilyn Manon songs all around. Clone High was absurdly funny. Early 2000's animated shows generally do not get as much hatred but Indian viewers did not like how it showcased Mahatma Gandhi. This show is perfect for a reboot in Adult Swim.
My Gym Partner's A Monkey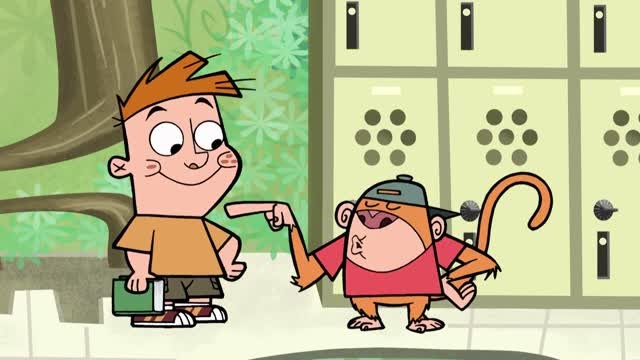 This was one show that was obsessed with butts for some reason. None of the early 2000s animated shows were as obsessed with derrières like this series was. Adam Lyon is an ordinary kid who becomes the victim of history's worst clerical error. He is transferred to Charles Darwin Middle School, an all-animals school, by mistake. Since the show literally has animals as main characters, there's so many fart jokes and loud noises it may make your head spin. But the show did receive a cult like status in the end and deserves to come back via an Adult Swim reboot.